World-Renowned Food Plot Oats No Longer Just for Professionals
Katy, TX:  Deer hunters want to give themselves every advantage possible. For 30 years, professional hunters have relied on Buck Forage Oats for deer food plots that consistently provide the cold-hardy forage preferred by whitetail deer.
Unfortunately, logistical challenges meant it wasn't always easy for every hunter to be able to get the praised, deer-attracting Buck Forage Oats they needed, which left them frustrated.
They were stuck using alternative seeds that often contained useless fillers or blends of seeds with different planting depth requirements in the same bag, so they didn't germinate, couldn't survive the winter, or didn't attract deer.
As professional hunters themselves, Buck Forage understands the value of being able to provide deer with food plots full of what they crave. So, they knew just how many hunters were getting frustrated by not being able to get what they really wanted. Buck Forage decided they needed to find a way to make their oats more accessible to everyday hunters.
They immediately thought about Wildtree.co, a wildlife nursery that also works closely with Dr. James Kroll, AKA "Dr. Deer," one of the foremost experts on whitetail deer.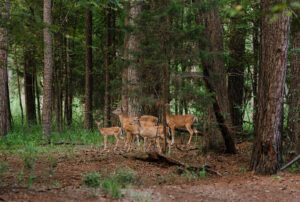 Like Buck Forage, Wildtree serves hunters and land managers, and Wildtree's customers are primarily the hunters who are searching for easier access to Buck Forage Oats. Partnering with Wildtree's existing distribution network and e-commerce setup just made sense as a quick and efficient way to make it possible for every hunter to have access to these whitetail-preferred oats.
"Wildtree's customers already appreciate being able to have plants that are selected and bred specifically for wildlife, and for us to be able to open up access to Buck Forage's advances in seed genetics is a huge deal. It's a total win for our customers," shared Jonathan Judice, Wildtree Founder. 
As a unified team, they reconfigured packaging to fit a more diverse level of hunter. They will sell those new sizes on Amazon to allow for the easy shopping, and direct shipping customers enjoy.  
The agile pairing of Wildtree and Buck Forage means hunters and land managers at all levels can use the Buck Forage Oats to become the successful hunters they want to become.
For more information on Buck Forage's deer-preferred, incredibly hardy oats or Wildtree's wildlife-preferred trees and shrubs, please visit buckforage.com and www.wildtree.co.
###